Break your smoking addiction
STAGES TO SUCCESS
Give advice for each stage of change with this highly interactive, action-oriented smoking cessation guide. Now places more emphasis on counseling and covers additional approved medicines.
LIVING WELL WITH ASTHMA
FAST GUIDE
Teach important self-care skills to help individuals manage symptoms, avoid triggers and prevent asthma flare-ups.
ASTHMA MANAGEMENT GUIDELINES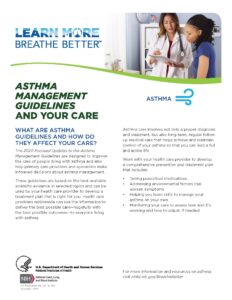 Learn about the asthma guidelines and how do they affect your care.
MANAGING YOUR COPD
LIVING BETTER WITH COPD: A GUIDE FOR YOU
Give COPD sufferers the information they need to manage their condition and lead more comfortable, more active lives.
 The team at the Respiratory Health Association is working with families affected by COPD and policymakers at the local, state, and national levels to raise COPD awareness, improve care for people living with COPD, and prevent and reduce the prevalence of the disease.
Click Here for their full resource page for people suffering from COPD.
BOOST YOUR LUNG HEALTH
BOOST YOUR LUNG HEALTH
Walks through oxygen therapy, managing your medicines, nutrition, and quitting tobacco.
In partnership with the Learn More Breathe BetterSM program of the National Heart, Lung, and Blood Institute, our friends at the Respiratory Health Association created resources like this one that provide information on how you can be healthy at home while living with COPD.
Click Here to see all of the free resources available from the Respiratory Health Association. 
SNORING AND SLEEP APNEA
PERSONAL ACTION GUIDE
Explains range of treatment options and helps patients and partners assist in diagnosis and find effective solutions for sleep apnea and its risks.
INFOGRAPHIC: ASTHMA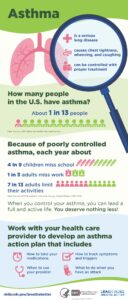 Asthma is a serious lung disease that can be controlled with proper treatment. This infographic illustrates basic facts about asthma, how many people have it, and the cost to society. It encourages people with asthma to work with their health care provider to develop an asthma action plan.
TALKING TO YOUR DR. ABOUT ASTHMA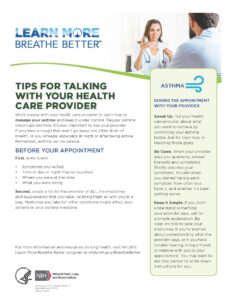 Regular asthma checkups help keep your asthma under control. This 2-page fact sheet offers tips for working closely with your health care provider and sample questions to ask at your next appointment.